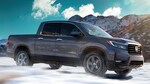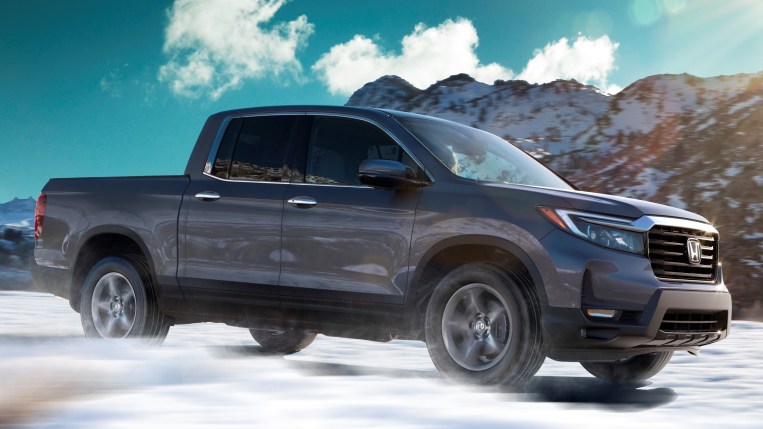 Thanks to a significant mid-cycle redesign that made it look bolder and more like a traditional pickup, the Honda Ridgeline has enjoyed a solid bump in sales. Honda sold 41,355 of the Alabama-built Ridgelines in 2021, an increase of 28.6% compared to 2020. This, despite severe supply issues during the second half of the year.
Four trim levels of the Honda Ridgeline continue to be available: Sport, RTL, RTL-E, and Black Edition. Each is powered by Honda's familiar 3.5-liter V6, which sends 280 horsepower to the 18-inch wheels via a standard 4-wheel-drive (4WD) system.
The best-selling Honda Ridgelines are the midrange RTL and RTL-E models, each of which accounts for about 30% of the Ridgeline's U.S. sales. Together, RTL and RTL-E account for a substantial 60% of all Ridgeline sales. Let's find out what's behind their sales success.
Honda Ridgeline RTL
At $40,620, the 2022 Honda Ridgeline RTL costs only $2,980 more than the base Ridgeline Sport, but it's significantly better equipped. Notable RTL interior upgrades over the Sport include leather upholstery, a power moonroof, and a power sliding rear window, not to mention power front seats with heat, a leather-wrapped steering wheel, and an auto-dimming rearview mirror.
While the technology suite stays remarkably consistent across Ridgeline trim levels (all models, for instance, have Apple CarPlay and Android Auto, plus adaptive cruise control and a forward collision mitigation system with automatic emergency braking), the RTL is distinguished by its SiriusXM satellite radio, acoustic windshield, and blind-spot monitoring – a technology we wish came standard on the Sport.
Visually, the 2022 Honda Ridgeline RTL is set apart by heated sideview mirrors with integrated turn signals. Other than that, the RTL can be ordered in four optional paint colors (Pacific Pewter Metallic, Platinum White Pearl, Radiant Red Metallic II, Sonic Gray Pearl) and with black 18-inch alloy wheels that list for a cool $1,836.
Like all Ridgeline trim levels, the RTL also can be ordered with a $2,800 HPD Package that ramps up the rugged look of the truck with Honda Performance Development alloy wheels, bolder grille, big fender flares, and prominent HPD bedside graphics.
Our key takeaway here: If the Honda Ridgeline Sport could be ordered with all the RTL's extra equipment as options (which isn't possible), it would cost considerably more than the RTL.
Honda Ridgeline RTL-E
The $43,570 Ridgeline RTL-E, pictured above, builds on the RTL trim with welcome additional features such as an 8-speaker audio system, LED daytime running lights, and a bed with LED lighting, a power outlet, and four speakers. That's right, this makes the RTL-E the Ridgeline of choice for tailgaters, aided by what is perhaps the truck's most bragworthy standard feature – a hidden 7.3-cubic foot in-bed trunk that has a drain and works great as a cooler for your ice and drinks.
Further distinguishing the 2022 Honda Ridgeline RTL-E are some extra touches of the variety you'll likely appreciate if you do a lot of driving. These include automatic high-beam headlights, front and rear parking sensors, a heated steering wheel, a wireless smartphone charger, and a satellite navigation system with turn-by-turn instructions. Welcome finishing touches include ambient interior lighting in a pleasing blue hue, plus chrome door handles, a compass, and even illuminated cupholders.
Our takeaway here is the same: If the Honda Ridgeline RTL could be ordered with all the RTL-E's extra standard equipment as options (which it can't), it would cost considerably more than the RTL-E.
This underscores the wisdom of Honda's simplified trim level breakdown, which bundles the Ridgeline lineup into four easy-to-understand trim levels with minimal options and packages. We like how the Ridgeline isn't burdened with overwhelming lists of extras, as is the case with many other new pickups.
Driving the Ridgeline
Since the mechanical package is consistent across the Honda Ridgeline lineup, they all drive pretty much the same. Which is to say very well, with ample power and typical Honda refinement. From the driver's seat, it feels like you're driving a Honda Passport SUV but with a bed behind you. As such, the Ridgeline shines as a great everyday vehicle that works well locally or on long-distance trips.
Yet the Ridgeline also works well as a truck. It can tow a 5,000-pound trailer. Its payload is a respectable 1,583 pounds. And its 5-foot 4-inch bed is just long enough for a pair of dirtbike motorcycles, provided the tailgate is in the down position. The tailgate, incidentally, can be lowered conventionally or opened from the side, which gives you much better access to the handy in-bed trunk.
And when you're driving in slippery situations like mud or snow, the Ridgeline is your ally. Its torque-vectoring all-wheel-drive system can send up to 70% of the power rearward if needed, and that power then gets apportioned automatically to the rear wheel that needs it most, keeping the Ridgeline almost magically plodding along. The system works great; all the driver has to do is select one of these driving modes (Normal, Snow, Mud, Sand) and stay on the throttle.
While some traditionalists may maintain that a unit-body vehicle can't be a real pickup, we disagree. They've probably never driven a Ridgeline in the dirt. We have. And we came away impressed not only with the robustness of the chassis (which has boxed integral frame rails) but also with its ability to keep moving, even in deep sand. Ford and Hyundai, you might have noticed, are following Honda's lead with their own unit-body pickups (the Maverick and Santa Fe, respectively).
As a refined 5-seat vehicle that blends the utility of a midsize pickup with the comfort of a refined crossover SUV, Honda's Ridgeline makes a lot of sense. And it's clear to us that the two most popular trim levels, the luxurious RTL and RTL-E, have succeeded by offering an enticing amount of safety, tech, and convenience at a price that won't break the bank.
https://www.kbb.com/car-news/the-most-popular-2022-honda-ridgeline/