We all have our favorite types of physical exercise. For some, maybe it's weight lifting and strengthening different muscles, while others might prefer cardio like running outside or on the treadmill. No matter what workout you love, it's just good to be active.
But is there one type of workout that reigns supreme in each state? We analyzed more than 6,000 Google search terms relating to exercise and fitness over the past 24 months to determine the most popular type of workout in every state and major U.S. city. We also surveyed 1,055 Americans who exercise to better understand gym annoyances and fitness budgets.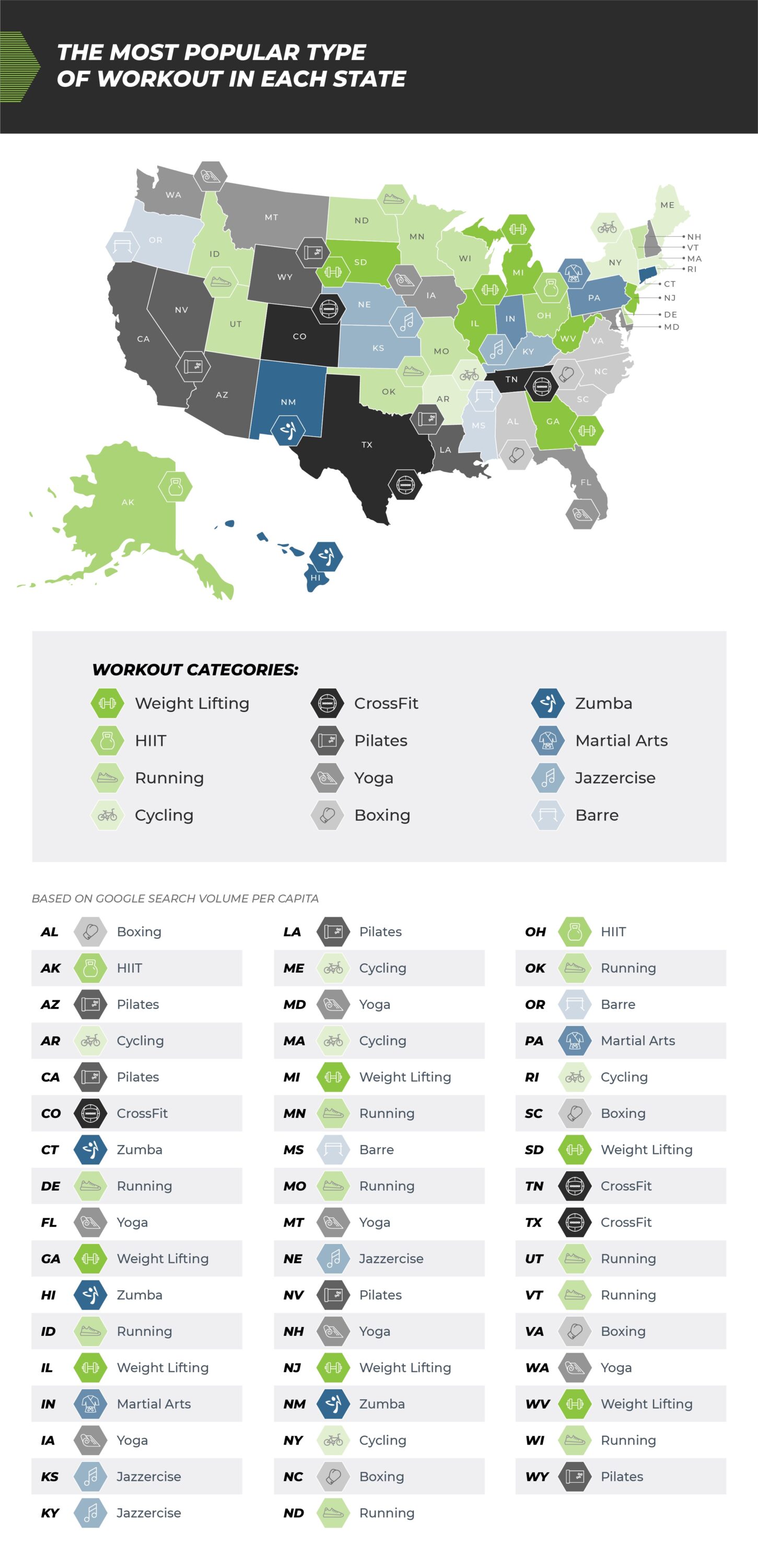 Although working out is a unique and personal experience, we discovered regional trends when it comes to types of workouts.
On the West Coast, pilates is the most popular workout. California, Nevada, and Arizona all have a preference for those pilates studios.
In the Midwest, people in states such as North Dakota, Minnesota, and Wisconsin prefer to run. Of course, we can only assume if they run outside it's during months without that bitter wind chill.
On the East Coast, cycling is a popular form of exercise Those in New York, Maine, Rhode Island, and Massachusetts all prefer to hop on a bike (either stationary or mobile) to burn calories.
Boxing is the main trend in Southern states such as South Carolina, North Carolina, Virginia, and Alabama. Georgians like to hit the weight room, while Floridians hit the yoga mat. 
Speaking of lifting weights, people in Michigan, Illinois, South Dakota, West Virginia, and New Jersey prefer to bulk up over other forms of fitness.
Martial arts (which includes MMA, karate, jiu-jitsu, etc) is another popular type of workout, especially in states such as Pennsylvania and Indiana. Meanwhile, a few states (Kansas, Kentucky, and Nebraska) even claim Jazzercise as the most popular form of exercise.
The cousin of Jazzercise, Zumba, is the most popular type of workout for those in Hawaii and New Mexico.
What about your classic high-intensity interval training (HIIT) workouts? Nationwide, Ohio and Alaska are the two states where HIIT is the most popular. Meanwhile, CrossFit is the claim to fame in Texas, Colorado, and Tennessee.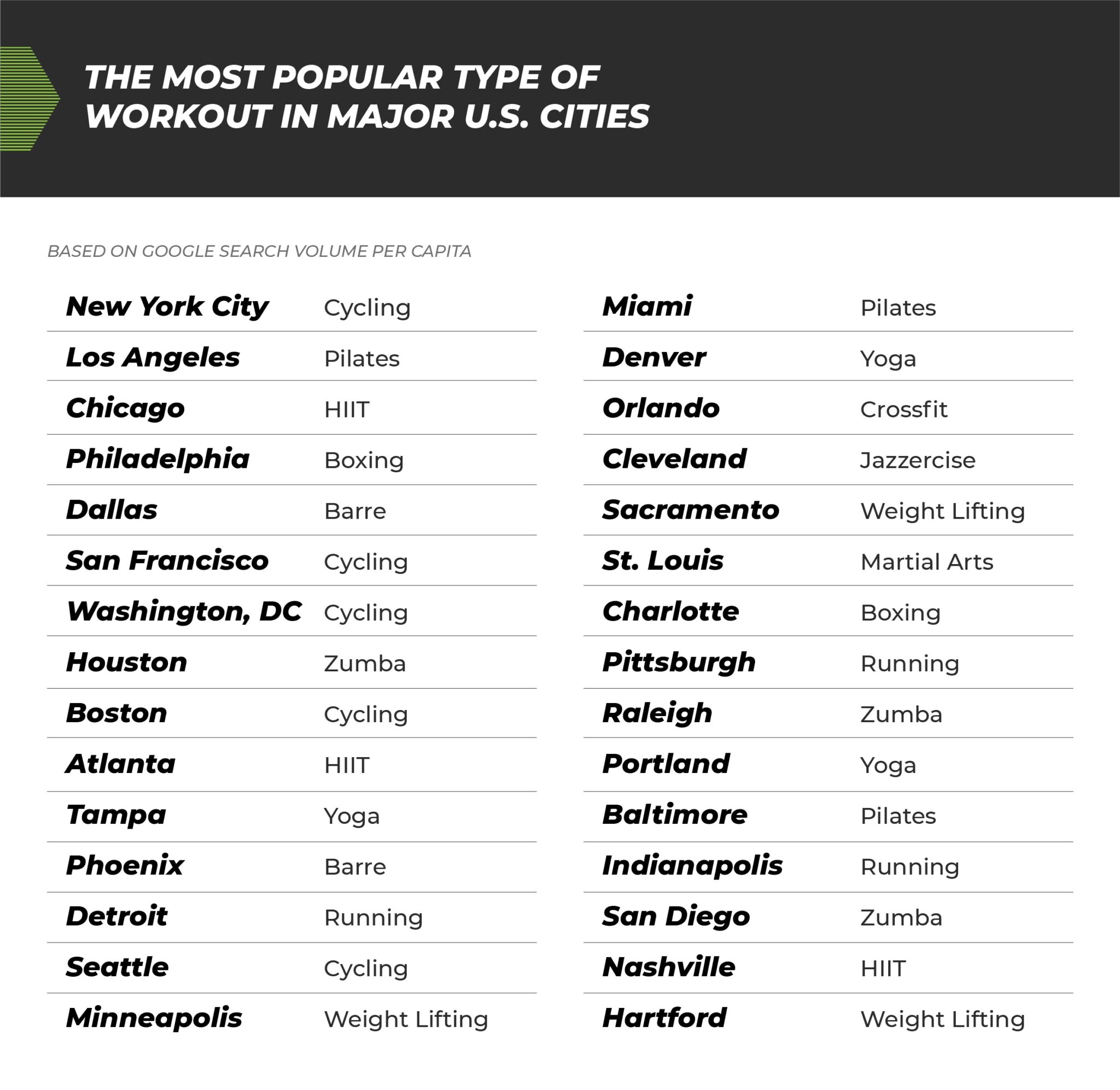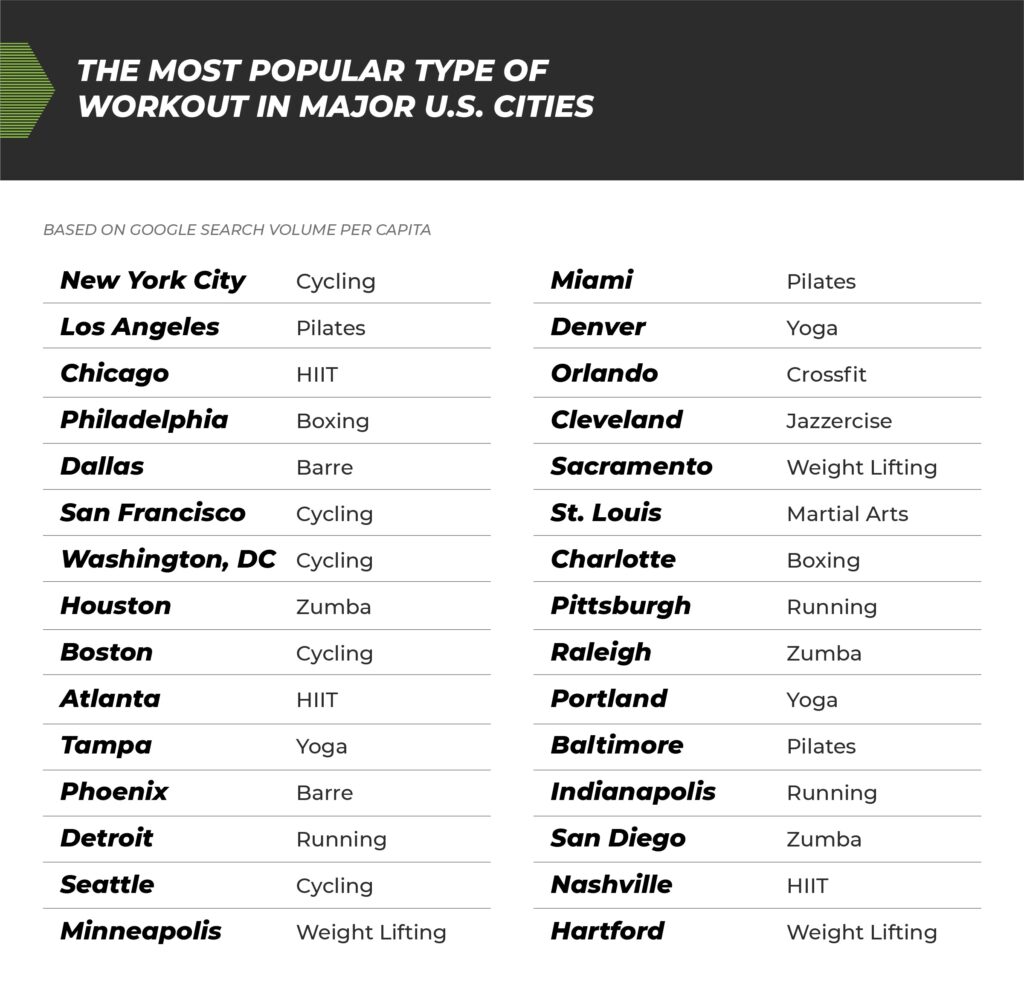 We also found the most popular type of workout in major cities across the U.S. Some cities echoed their state counterparts in workouts, such as the popularity of cycling in both New York City and the state of New York. Like California as a whole, Los Angeleans also love pilates. Tampa also follows suit in terms of popular workouts, echoing Florida with yoga.
However, other cities in Florida differ when it comes to types of exercise. People in Miami prefer pilates, while people in Orlando prefer CrossFit. 
Other cities in California stray away from the pilates popularity. Those in Sacramento prefer weight lifting, while people in San Diego are all about Zumba. Houston and Raleigh also claim Zumba as the most popular type of workout.
Everyone in Philadelphia is about boxing, perhaps hoping to be the next Rocky Balboa. We wonder if climbing the Philadelphia Museum of Art Steps is part of their routine exercise? 
People in Minneapolis and Hartford are all about lifting weights, while people in Phoenix and Dallas like to hit the Barre (we don't mean the kind with alcohol). 
HIIT workouts are the most popular in cities like Chicago, Atlanta, and Nashville, while those in Detroit, Pittsburgh, and Indianapolis just like going on the classic run.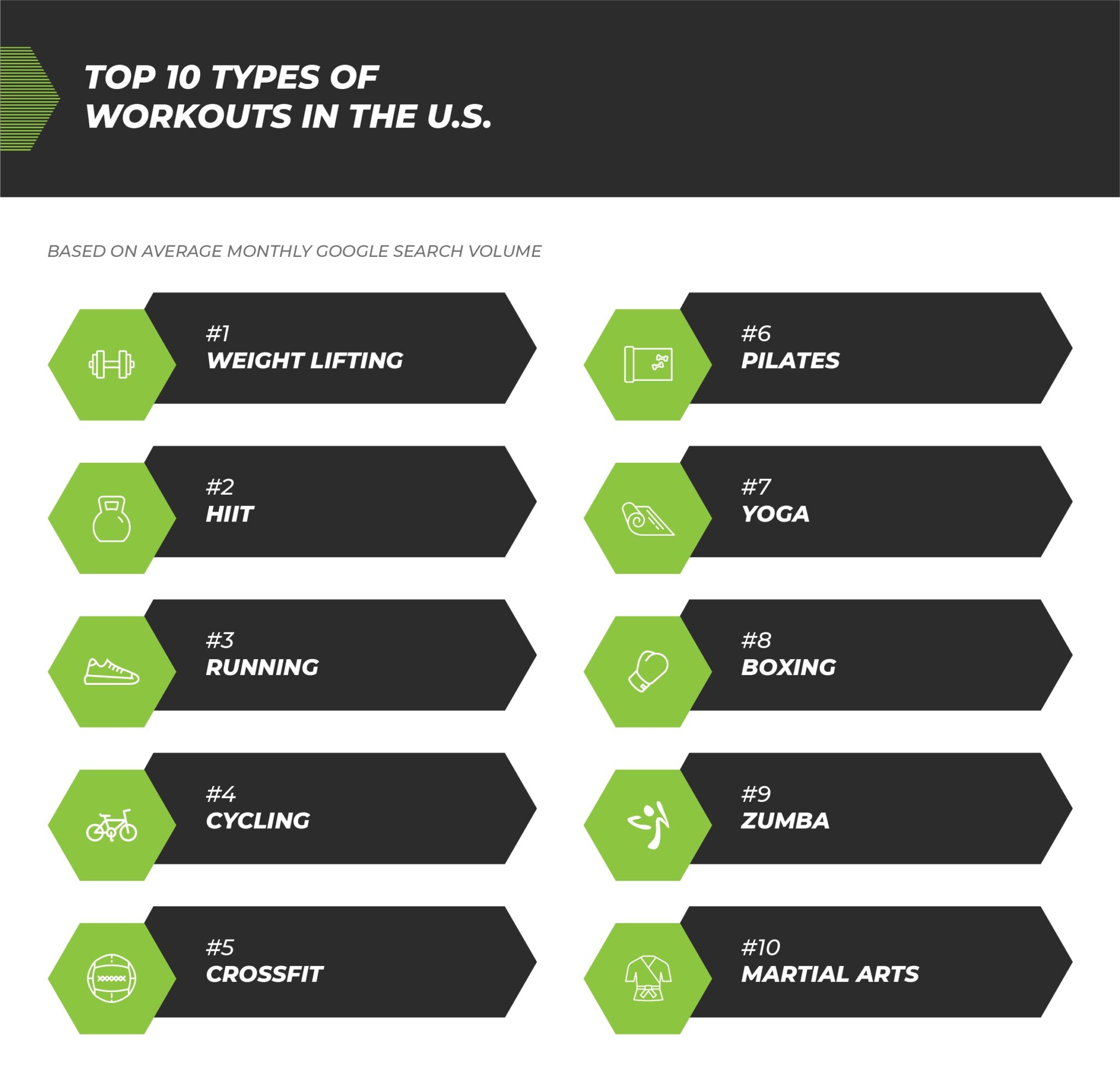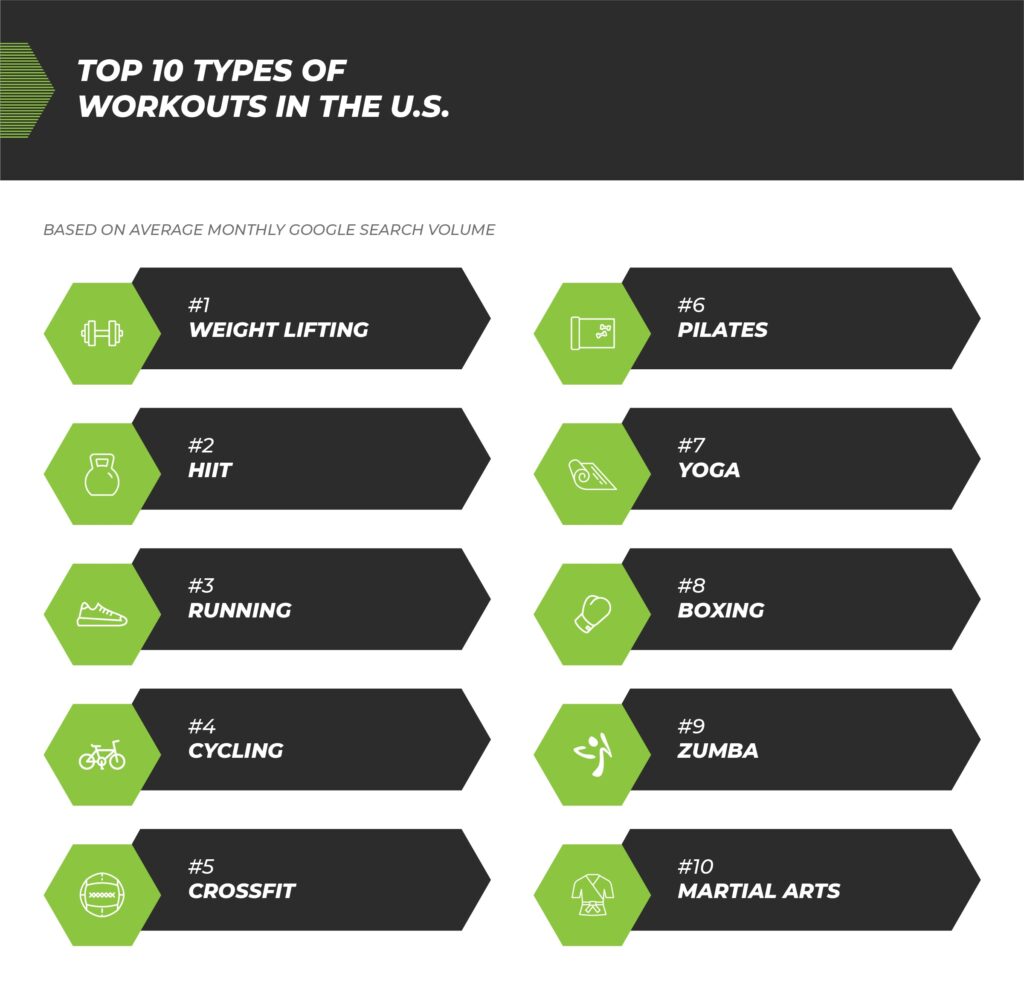 When we look at the country as a whole, what are the most popular types of workouts? Nationally, the number one workout is weight lifting. That's followed by HIIT, running, cycling, and CrossFit.
Types of exercise like pilates and yoga rank numbers 6 and 7 respectively, and are followed by boxing, Zumba, and martial arts.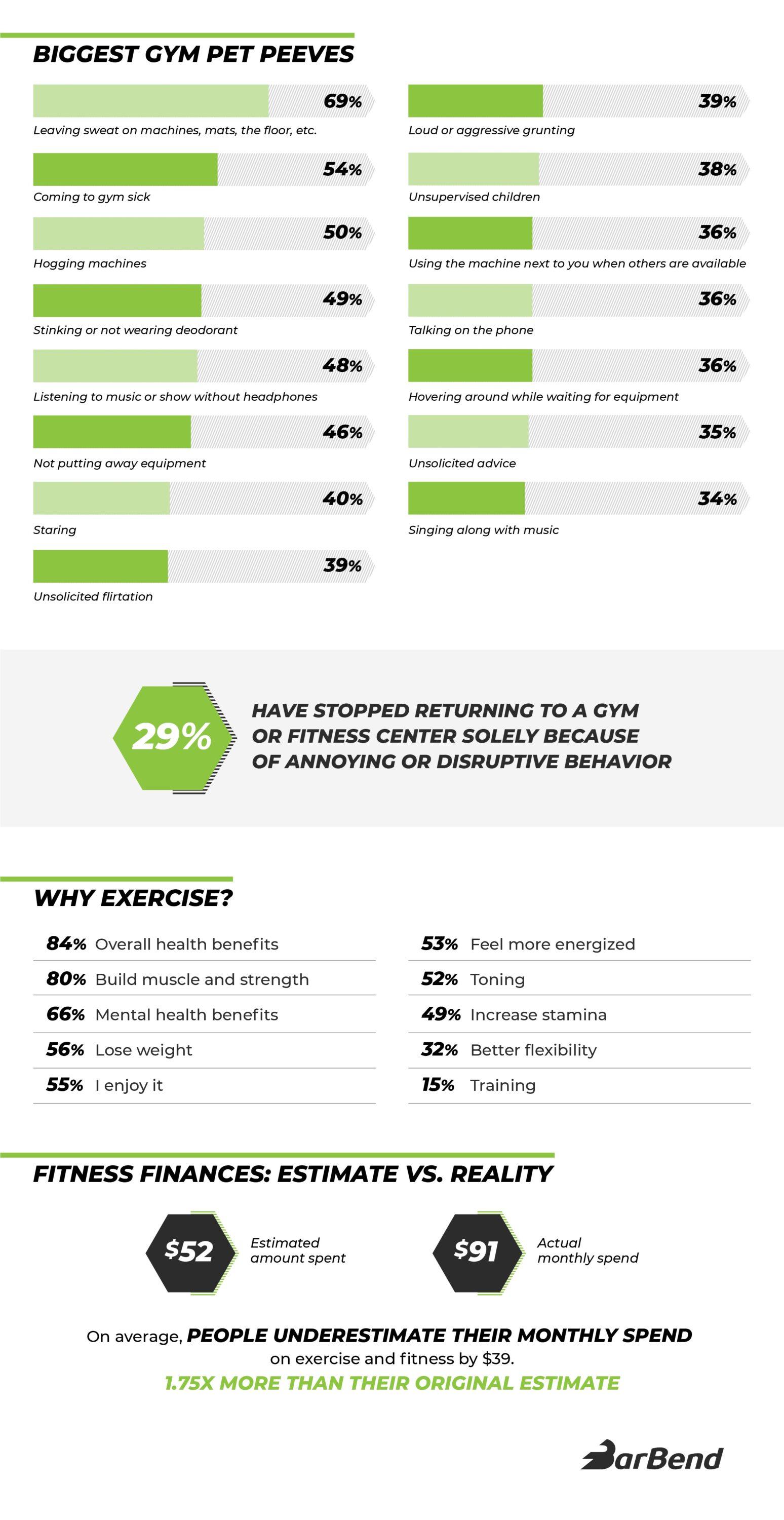 For those who routinely work out at the gym or a fitness facility, chances are, there are some annoyances they encounter. We were curious about some of the biggest pet peeves people have when it comes to the gym.
Gym Pet Peeves
Number one? People who don't wipe their sweat off machines (or really anywhere sweat can collect). Wipe down your machine after using it! No one wants to sit or touch someone else's sweat.
Especially since the onset of the COVID-19 pandemic, no one appreciates people who come to places sick. This includes the gym, so if you've come down with the sniffles maybe just exercise at home until you feel better.
Other top gym pet peeves include hogging machines, smelling or not wearing deodorant, listening to music without headphones, not putting equipment away after you use it, staring, unsolicited flirtation, loud or aggressive grunting, and unsupervised children. 
Some of these annoyances can be so bad it actually deters people from returning to that gym. In fact, 29% of Americans have stopped going to a certain gym or fitness center solely because of bad or obnoxious behavior.
For many people, exercise is a vital part of their routine. One of the main reasons people say they exercise is for the overall health and benefits. Other reasons include building muscle and strength, the mental health benefits, losing weight, and because they just like it.    
Of course, budgets can have an impact on fitness habits. According to survey respondents, people are underestimating how much they spend monthly on exercise by about $39. Monthly costs include things like gym memberships, subscriptions, exercise clothes, protein, and supplements.
The places people choose to live can determine what exercises they do. Not everyone lives within the distance of a gym or a boutique fitness center like OrangeTheory® or Barry's Bootcamp®. Exercises people can do from home (such as running) or from their at-home gym are great ways to ensure physical activity, and there's always the option for subscriptions or YouTube classes. No matter how people choose to exercise, all that matters is getting up and moving.
Methodology
We analyzed more than 6,000 Google search terms related to types of workouts and fitness trends to complete this study. For state-level data, we looked at search volume per capita averages over the past 24 months. 
In May 2022, we also surveyed 1,055 Americans who exercise regularly to get their feedback on gym and fitness habits and preferences. Respondents were 50% female and 49% male, with an age range of 18 to 75 and an average age of 37 years old.
Fair Use
When using this data and research, please attribute it by linking to this study and citing barbend.com
For media inquiries, contact [email protected].
Featured Image: Frame Stock Footage/Shutterstock