TOM BIHN: haven't met the man, but love his company! Read the inspiring story about how the company got its start.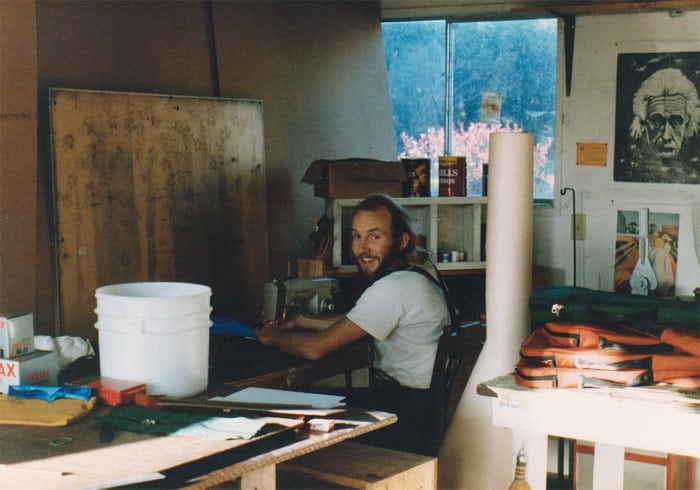 Looking for the perfect backpack for "minimal" (one carry on bag only) international travel took research. The last time I did this kind of travel was decades ago as a college student abroad.
Things have changed. Materials are as tough or tougher, but lighter. People carry different things now – phones, tablets, laptops, chargers, cords, etc.
After settling on Tom Bihn, a Seattle company that designs gear based on personal knowledge and user feedback, orders fabric, cuts it, and sews it on site, I ordered the Synik 30(Liter). If you don't know, like I didn't, backpacks are sized in Liters.
They have a loyal following, which I joined after ordering a backpack with the wrong interior fabric. When you order your bag, you choose from multiple exterior and interior fabric weights and colors. I was going for the lightest bag possible with tough exterior fabric that would hide dirt, and a light colored interior fabric that would make it easier to find things.
I contacted the company, told them it was entirely my fault, but could I possibly return the bag and re-order? The combination I wanted was not in stock, but they managed to find me one and ship it out immediately, without charge, before I'd returned the original!
To top that off, they offered to send a new backpack they were in the process of designing, the Techonaut 30(Liter), to my daughter for this trip. It was only available for Pre-Order at that point and eagerly anticipated, so it was a big deal. They asked only that she give honest feedback on the bag. She even got to choose the fabrics and colors. The kicker was getting it to her before our departure date. I was a little concerned, so offered to pay expedited shipping to be sure she'd have it in time. Next thing I knew, they had shipped it 2 Day Air! It made it just in time!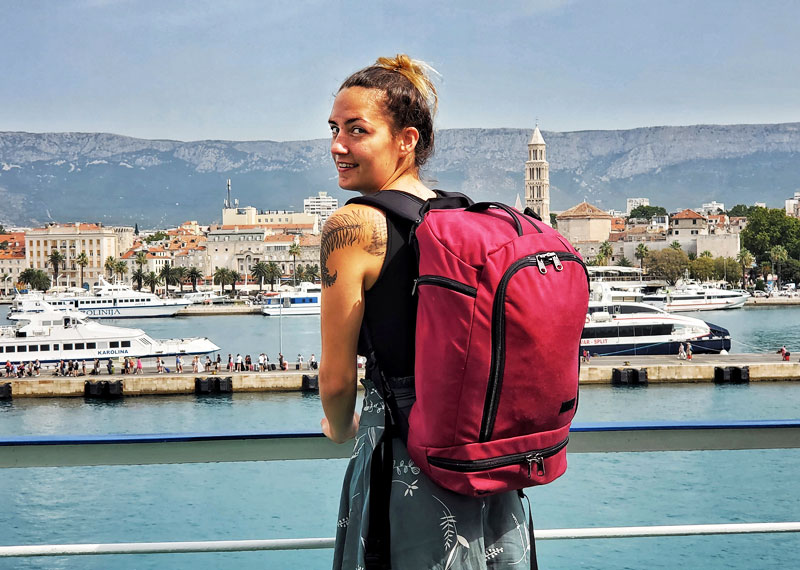 Tom Bihn backpacks and gear aren't cheap, but you get more than you pay for, in my opinion. It's not just about excellent fabrics at various weights/toughness, it's about things like top of the line, YKK waterproof zippers sized for easy handling. These zippers are a little harder to open and close because of the rubberized backing. I liked that because – waterproof if it rains. But that also means they're harder for pickpockets to slip open.
I just carried the Synik 30 around for two weeks to, all over, and back from Croatia. I'm talking multiple flights, hanging out in airports, a hotel when a flight was cancelled, five AirB&Bs in five different cities, ubers, taxis, taxi boats, and ferries. The thing looks and works like new! The same is true for the Techonaut 30 Audrey carried.
Because they're constantly selling out, backpacks & accessories are listed as "In Stock" or "In Production". They post Restock dates and times, and believe me, people are waiting to hit those Add to Basket/Checkout Now buttons as soon as restocked items go live!
PACKING A BACKPACK
To Cube or Not to Cube
Packing cubes have been around a long time. You can use them in standard suitcases, totes, backpacks, whatever. People that use them love them and wouldn't pack any other way.
Tom Bihn backpacks are built with compression straps, "O" rings, pockets, etc., so cubes aren't necessary, but rather an additional option.
I picked up a variety of shapes & sizes by two brands – REI and Eagle Creek. All of them are "compression cubes". That means there's two sets of zippers. Pack the cube, zip it up, and then close the compression zipper, taking the cube down to about half the size. Believe it or not, the right travel clothes do not wrinkle, even under this pressure.
My three cubes were used for; 1) underwear & socks, 2) capris & slacks, and 3) tops.
One cube I didn't think I needed, but WILL be adding for the next trip is a Clean/Dirty cube. They usually have a flexible/moveable center divider. Some are rectangular, some are stuff bags. As you use your clothes, move them to the sealed "dirty" side of the cube.
Count me a packing cube convert!
Accessories
After shopping around for a new smaller, lighter toiletry bag, I ended up getting a Tom Bihn Standard Spiff Kit in Island 210 Ballistic. Other brands are less expensive, but they just can't compete when it comes to construction quality and life expectancy. It held everything I needed for a 2 week trip and fit perfectly inside the very top of the backpack. 
Finally, just so everyone knows, I would have written about the Tom Bihn company and their products with or without the Techonaut given to Audrey, an avid outdoors-woman, for field testing. I'm that impressed with the company, their philosophy, and the folks that work there.
https://carolinaepicurean.com/one-bag-travel-tips-with-tom-bihn/