Readers Weigh In

It's not apple.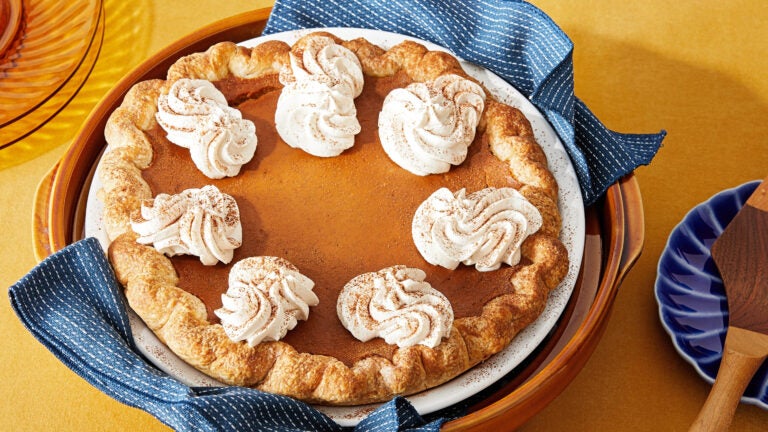 It's the start of Thanksgiving this week and it seems readers are already preparing their ovens with some specific dishes in mind, especially when it comes to pies.
Fauci says Thanksgiving dinner safe for vaccinated people

We asked readers for their favorite Thanksgiving pie last week and received more than 330 responses. Most readers, 79 percent, voted for pumpkin, pecan, or apple pie. Among all responses, 87 percent of readers prefer making their pies at home, many saying nothing store bought will beat a pie made with love at home. "She made everything from scratch and with love for her family," Anne Louise B. from Arlington said of her grandmother's cooking.
With pumpkin serving as a mainstay of the New England diet since colonial times, it may come as no surprise that pumpkin pie is the most popular among Boston.com readers. "I can't get enough pumpkin since the season is way too short," Kristine A. wrote. Of the 29 percent who voted for pumpkin pie as their favorite, many readers mentioned pumpkin pie a seasonal dish that is best suited for Thanksgiving. Devin from East Boston called it the "one true fall pie" and said other pies can be a part of many different holidays but pumpkin pie is "for turkey day only."
Readers who voted for pumpkin pie consider it an irreplaceable Thanksgiving tradition. "It reminds me of being home with my family," one reader wrote. Many shared the fond memories of homemade pumpkin pie. "Since I was a child I have loved the pumpkin pie my mother made at Thanksgiving but only that which is highly spiced with cinnamon, allspice, cardamom, ginger, and cloves," Patricia S. in Lincoln said. "Now, decades later, I make that same pumpkin pie each Thanksgiving. … To me, Thanksgiving isn't Thanksgiving without a slice of the pumpkin pie I grew up with."
Other readers recommended topping the pie with vanilla ice cream or whipped cream. Gretel M. from Northborough wrote, "Delicious — especially with whipped cream!"
What's your favorite Thanksgiving pie?
Apple
Pumpkin
Pecan
Cream (ie. vanilla, banana, lime, peanut butter, coconut)
Cherry
Berry (ie. blueberry, raspberry)
Chocolate
None
Other
Do you prefer homemade or store-bought pie?
Homemade
Store-bought
The rich and crunchy pecan pie came in a close second with 28 percent of the vote. "People who say they don't like pecan pie must not have tried a good one," Michelle from East Boston said. "It is gooey and has a nice crunch with the pecans on top. I could eat nearly a whole pie myself. It's decadent and so indulgent."
One reader who recommended homemade pecan pie said the next best option would be to head to Petsi Pies in Cambridge. "It's rich and decadent, and delicious," they said. Other readers recommended grocery stores like Whole Foods and Market Basket for a quality pecan pie.
Some readers even described a new-found appreciation for the dessert.
"I hated pecan pie as a child and only wanted pumpkin," Erin from Fenway said. "When I got older, I discovered how good it is with vanilla ice cream." Despite baking it at home a few times, Erin prefers pre-made from a bakery like Flour or Clear Flour Bakery, "because it is faster, cheaper (in the end, pecans are expensive!), and the crust is better."
Joseph S.V. in Beacon Hill said, "Pecan pie was not too popular in 1980s to 1990s Massachusetts, so when I first tried the pie, I thought it was sweet but also crunchy from the nuts. Most pies are mushy, so the crunch is what makes pecan pie special."
Despite coming in third place with 22 percent of the vote, apple pie has some lifelong dedicated fans, too. One reader wrote, "apple pie has been my favorite for 82 years." Holly in Quincy wrote, "What gets better than apple pie?Nothing!!!!!!!!!!" Many remembered growing up with apple pie and said the best recipes come from family members. "My mom made the best apple pie," Barbara M. wrote. "It was a little tart and her crust was so flaky (something that I have never been able to replicate). She made this pie recipe by heart (there is no recipe)."
The remaining 21 percent of readers who voted for other pies include 4 percent each for cream and berry, and 3 percent each for cherry and chocolate. Readers said these pies, although less popular, never lose their importance at the dinner table. Kim S. from Arlington wrote, "the combo of sweetness and the chocolate's aromatic bitterness make the pecan/chocolate one the real winner," referring to the self-baked brown butter pecan with chocolate pie. "And it's more than just me. It's always the first pie to get finished off, devoured even by the professed pumpkin pie purists."
A few readers seemed to love the traditional English mincemeat pie. Kim M. from Rhode Island wrote, "[Mincemeat] is a perfect combination of fall flavors, inside a flakey pastry. It's a British tradition, with a nod to New England with the addition of cranberries!"
Lemon meringue pie was also mentioned. It is "what my dad always wants after Thanksgiving dinner and the first pie my mom made for him when they were first married (currently he's 90, she's 86 and they've been married 66 years)," Mary A. wrote. "Thanksgiving is my favorite holiday."
Stay up-to-date on food news
Sign up for The Dish and get the latest food and restaurant news in your inbox.

https://www.boston.com/community/readers-weigh-in/the-most-popular-thanksgiving-pie/