Some international passengers would be able to bypass security re-screening during layovers at U.S. airports under a pilot program advancing in Congress.
The proposal will be considered by the Senate Commerce, Science, and Transportation Committee Wednesday as lawmakers look to boost the return of tourism now that the U.S. has reopened to vaccinated foreigners. The House passed a bill (H.R.4094) to create a similar pilot program in September.
TSA is currently required to screen passengers and their luggage after arriving on international flights to the U.S. before they can board a connecting flight. The pilot, which is backed by airports and airlines, could free up screening resources as travel picks up and make the process easier for passengers.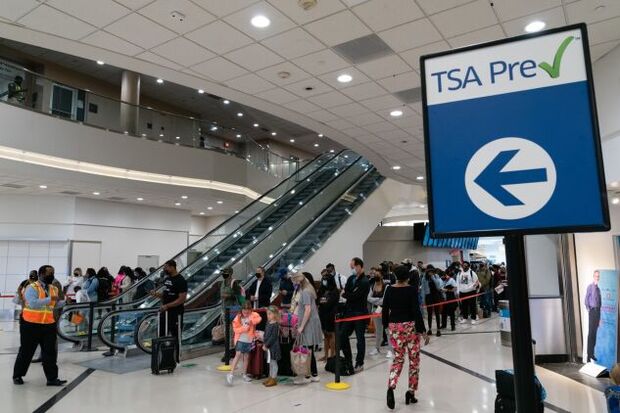 The pilot will be considered as part of legislation (S. 3375) aimed at promoting travel and tourism in the U.S. It would also establish an assistant secretary for travel and tourism at the Department of Commerce, create a task force to address the pandemic's impact on air travel, and set visit goals for international travelers to the U.S. It would also initiate a study on using dogs to detect Covid-19, including at airports.
The screening pilot would authorize the Transportation Security Administration to allow passengers from six international airports to skip domestic security re-screening. The international airports, still to be determined, would have to have agreements with TSA requiring them to have comparable security standards.
The House measure has been supported by industry trade groups, including Airlines for America, Airports Council International-North America, and the American Association of Airport Executives.
End of U.S. Travel Ban Spurs Push for New Tourism Legislation
Lawmakers held a subcommittee hearing in September to hear from stakeholders on the draft version of the legislation after the White House announced the U.S. would allow entry to most foreign air travelers as long as they're fully vaccinated against Covid-19.
"The travel and tourism industry, vital to every state's economy and workforces, still needs significant help," Sen. Jacky Rosen (D-Nev.), who leads the Commerce Subcommittee on Tourism, Trade, and Export Promotion, said during the hearing. "I'm happy to report though that help is on the way."
To contact the reporter on this story: Lillianna Byington in Washington at [email protected]
To contact the editors responsible for this story: Sarah Babbage at [email protected]; Robin Meszoly at [email protected]
https://about.bgov.com/news/international-travelers-to-skip-extra-u-s-screenings-under-bill/